Cultivar: Yunnan Da Ye Large leaf
Grade: Imperial, exclusive, rare
Regular price

Sale price

£13.50

Unit price

per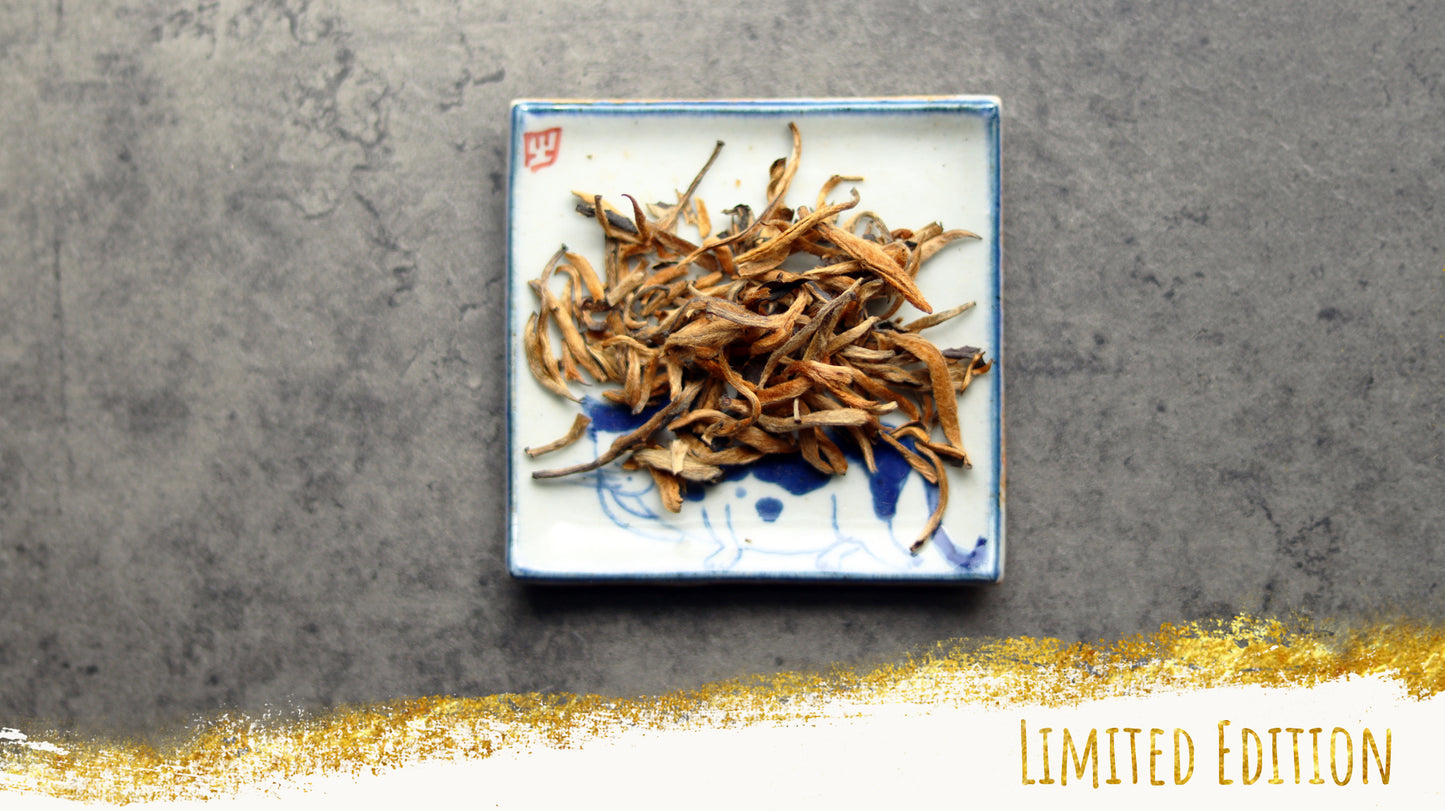 China, Yunnan province, Simao district, Lincang

Yunnan teas are called "Dian Hong" which means "Yunnan Red". Yunnan is considered to be the birthplace of tea. Wild tea trees as old as 1700 years can still be found in the tropical forests of Xishuangbanna. Yunnan has mountainous terrain with peaks soaring to 2000m and rich red soil which binds all minerals & organic matter.
Our Golden bud is a rare black tea hand-picked before start of March.
Grown high in the mountainous region (1700 m altitude), without fertilisers or pesticides.
Skilfully processed by local artisans which let the buds wither longer (this enhance the fragrance) and oxidise slower ( this tones down astringency in the liquor and doubles the concentration of flavour).
Yunnan teas are considered one of the most exquisite teas for their incredible balance. They have high mineral content which will increase blood circulation and keeps us warm in cold weather. Yunnan will also relax our minds!

Ambience

DRY LEAF: Small, lightly twisted, slender & hairy golden buds. Aroma of Cherry liqueur & dark chocolate. The buds are very beautiful to look at and the floral, sweet and fruity fragrance is remarkable.
INFUSED LEAF: Infused buds are matt, leather-like and perfect in shape. Unified. Aroma of dark wet forest wood, cinnamon & cocoa.
LIQUOR: Crystal clear amber cup with shimmering golden rim. Light, sweet floral aroma of heather honey is rising from the cup. The mouth-feel is complex, rich and sweet. Notes of ripe apricots, cherries, caramel & cinnamon lingers on the palate for a long time. This tea is incredible. Elegant, well balanced and creamy cup with no acidity and a very pleasant astringency.

"Litlle Poetry" by JD
"Long curly golden brown locks, falling down to your face
Sleeked by the rain, tightly sticking to you like a caramel
You run up, through the dense forest, dodging creepy roots, and smelling the fresh aroma of pines and cedars
They are so tall, beautiful; as beautiful as soldiers standing in line
You run further, breathing heavily, through a massive meadow full of sweet fragrant flowers
Their yellowy tips look so happy, like the rays of the sun in this dark misty forgotten land, you think.
You have reached the middle of a copper mountain now; you slow down a bit, focusing on your breath, keeping your mind clear, and attention to each step or jump over the streams and rocks
Nearly there... your heart pumps like a siren
You reached the top and the view is amazing
Peaks all around you, and as far as you can see
You drink them in with your thirsty eyes, mixing the stunning view with the exhaustion of your body and relaxed mind
You sit on a stone near the edge of the mountain, letting your legs hang down, that way you feel free as a bird.
You grab an apricot, and dark chocolate, from your bag and happily munch on it.
You grab your teapot and put a couple of leaves of Yunnan in it, pour hot water and warm your mind with it.
The taste is mellow, clear, well balanced, excellent.
You feel energised, invigorated
Time to go back down, you glance back at the peaks, you see as far as a bird, you could just about fly
You spread your hands and run down fast, not stopping until you are at home
You have seen something amazing today, something beyond the mind, you'll never forget"