Grade: Special, Ace quality, Fantastic, rare
Regular price

Sale price

£9.20

Unit price

per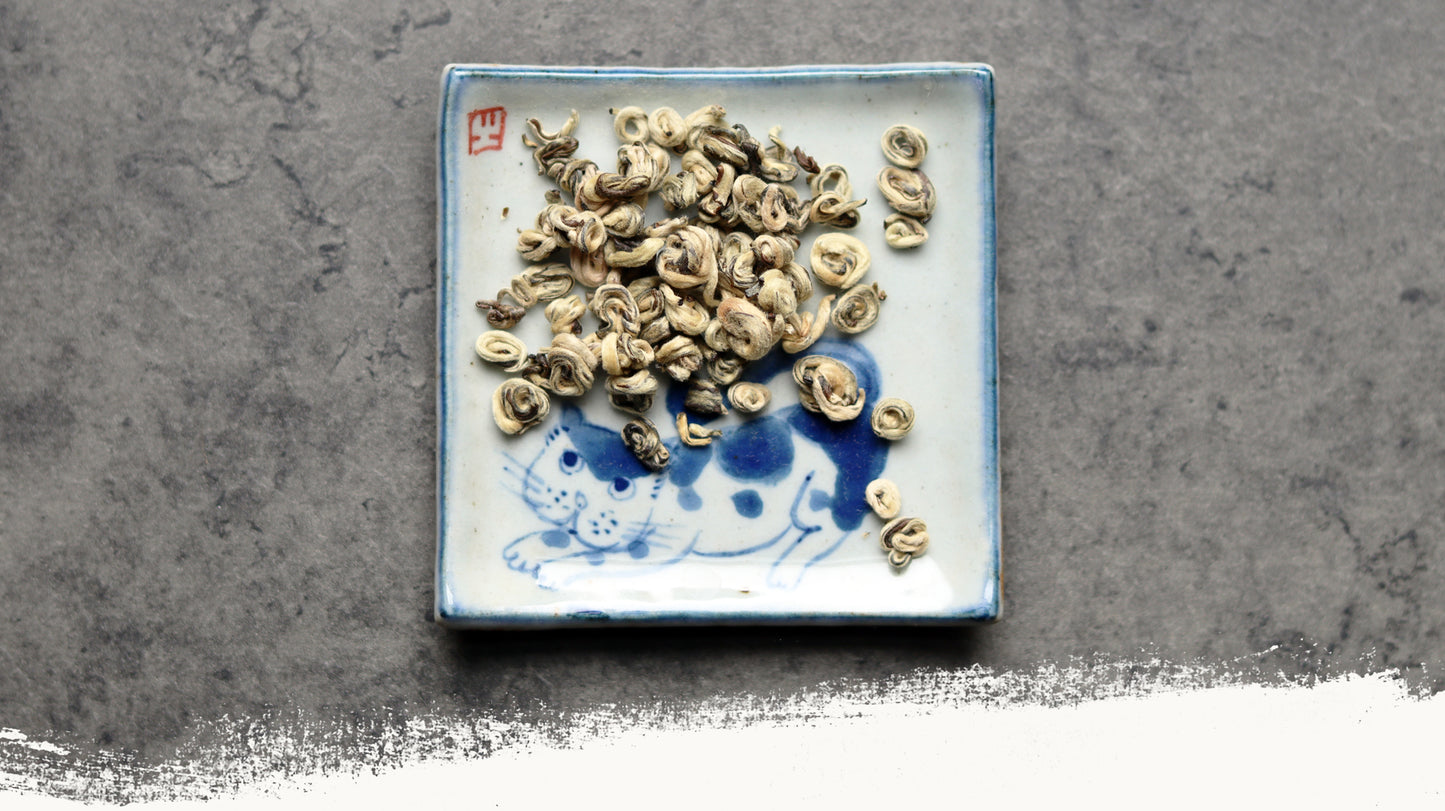 China, Yunnan province, Siamo district, Mojiang town

The name Bi Luo Chun in Chinese means "Green Snail Spring". Chosen as a Tribute Tea by the Emperor Kang Xi in the 17th century, who thought the tea resembled tiny green snails. Bi Luo Chun is one of China's famous rare teas. Only a bud and leaf (in our scenario only a bud!) is being hand-picked once a year from mid-March to mid-April. It takes 60,000 to 80,000 leaf/bud sets to produce one pound of finished Bi Luo Chun tea.
Ambience

Leaf: Beautifully rolled silver buds into tiny pearls. Strong aroma of lily nectar, honey and biscuits, absolutely overpowering.
Infused leaf: The buds are light green, smooth and perfectly unified. Floral bouquet is almost opiated, tulips, peonies, lilies with hints of sweet green peas and a tiny hint of peach notes.
Liquor: Crystal clear and soft golden cup. Aroma of tulips, sweet peas and cream. Mouth-feel is silky, juicy and delicate with notes of orchid nectar, peaches, peonies, sweet honey and creamy butter texture. After-taste sweet, floral and vegetal. No acidity, a little astringency and super-super sweet.
"Litlle Poetry" by JD
"The first sun rays are cutting deeply through the morning mist
Dark, green frost covering the whole land of tea bushes
The quietness is immense, almost audible, but then one drop falls from the sky, followed by another and another
In a second there is thousands of them, sliding down from the bushes
Storms roll in and out, the sun and rain at war.
The tea bushes breathe out, and create a dense mist. In it they start to grow, slowly but persistently
They cook their aromas mixing sweetness, peaches, lychees, and mangoes of nearby trees. They also add a bit of a truffle, just to be known as a special.
They are straight, silvery and perfect hairy buds by now
But with the next sun rays they are curled up and golden, ready for your first spring and delicious cup of tea"