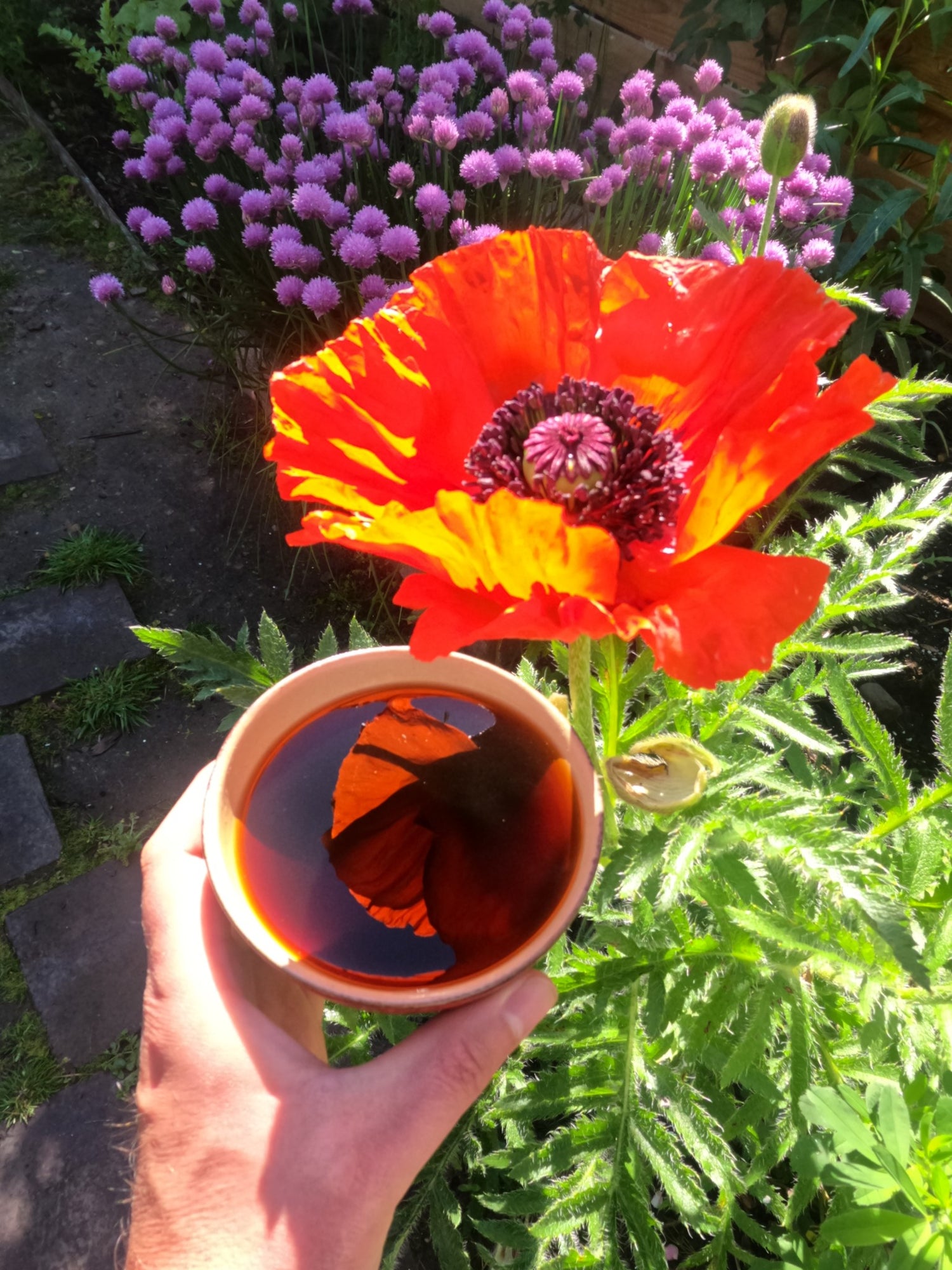 Pu Er & Poppy
When the sun is out..... Scotland is just like Spain. Hot hot & hot whatever you do, it's just hot. We cycle, we run, we drink tea and catch as much sun as we can to prepare for the long winter (as the saying goes: "Scotland has only two seasons... summer is in june and the rest is winter", right? :P) So let's make most of it.
The roads are clear, the mountains are windy-barren and the forests are full of bugs & midgies, but we love it as at the end of the day, you can simply make a fantastic pot of tea in your garden. Sit, relax and enjoy the tea while watching the various shades of multiple colours flickering in the wind.
This tea is KING OF PU ER next to a very very posh poppy (surely not edible!). The garden is super soothing, pretty much like our King of Pu Er. Nothing better than that :)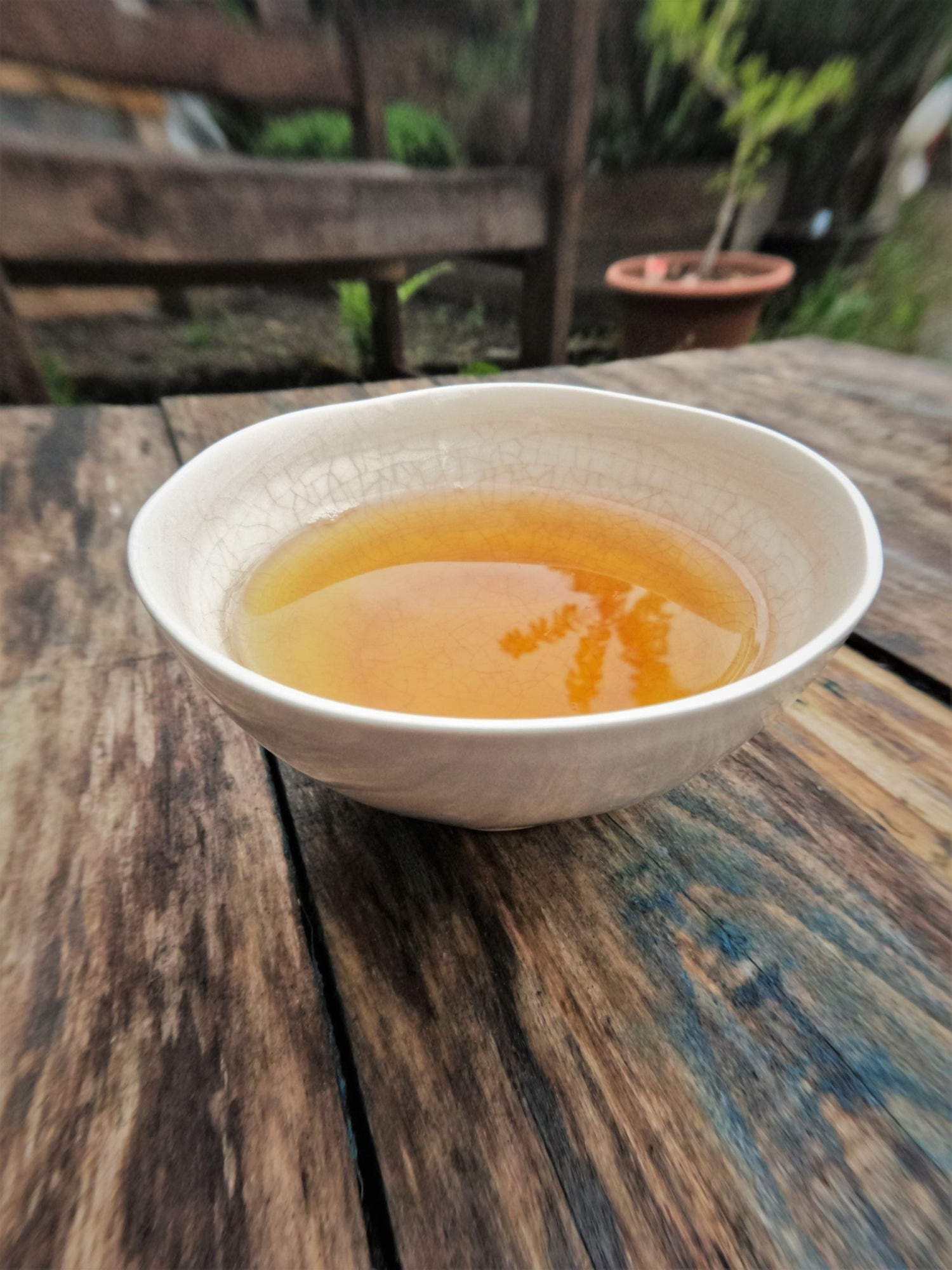 1st flush "MIZUKI" Black tea - handmade by She Fang
We've made yet another wonderful tea from our micro tea plantation in Scotland. Our tea bushes have been joyously growing in our garden for about 6 years now. This time we have made a lovely 1st flush black tea which we have proudly named "MIZUKI" (meaning: "beautiful moon").
The liquid is quite light in colour for black tea due to slow oxidation. The tea does resemble more 1st flush Darjeeling than Yunnan or Keemun teas. The aroma is sweet and very floral. The mouthfeel is well balanced, soft & smooth with a notes of stone fruits such as peaches and apricots. Aftertaste is dry and long lasting with mahjong date-like sweetness.
We are very proud to be able to harvest our the little tea from our micro garden and we're having so much fun with all the withering, rolling, oxidation and drying! Our house smells just so fresh and wonderful from it and it reminds us our precious time spent in the magical TEA hills of Darjeeling.
Mountain Forest Lake
The universe can always surprise you.
Even if you live 20 years on one spot, there is always a new path leading to the summit.
Keep searching... with Keemun Hao Ya - Palace grade N.102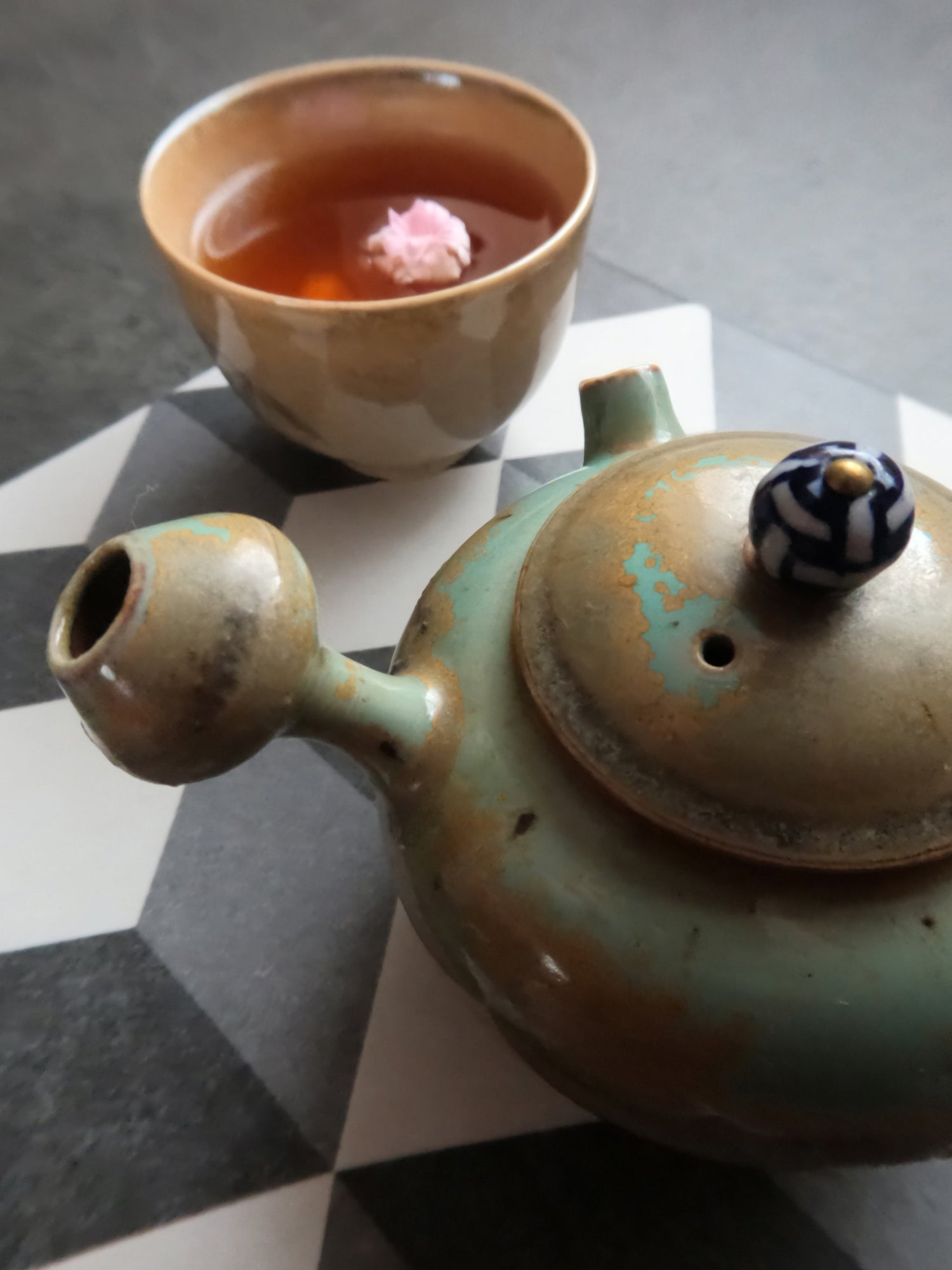 How joyous it is when the big huge fluffy spiky snowflakes are falling down slowly with memento like feeling. A feather movement perhaps or a tiny butterfly flickering his wings, shifting from side to side? The snow appears slow, romantic a vivid capture of time, presence, being. This is how we feel running up to our tiny hill, our vibram five finger shoes grabbing the cold wobbly snowy ground, soaking all in and transferring the wonderfully cold moment from our feet, through our bodies up to our crazy brains. The snow is truly magnificent. We run as fast as we can to keep our toes warm and hearts happy. Afterwards, we sit and brew a teapot of our wonderful BIG RED ROBE wulong tea. This tea taste like fresh cedar, ripe apricots and cinnamon bark with a lily flower aroma and roasted tobacco leaves aftertaste, it is a true gem. Not to mention multiple brews!
Cat Power
Today, we are brewing incredible Imperial grade of Bi Luo Chun alas "Green snail Spring" N.201 tea in one of our brand new cat & fish gaiwan. It tastes like fresh new spring coming to our mouths. With an aroma of orchids, mouth-feel of biscuits & honey and short sweet fruity aftertaste we brew one gaiwan after another. The sun is out and bulbs are coming slowly through, it does feel like spring is just behind the door.
I think we could all use a nice sunny and warm spring soon!
Drink Tea... Be Free...
Frozen Peak Wulong
Formosa Lu Gu Dong Ding Chin Xin alas Frozen Peak. This is a beautifully rolled green wulong tea. With a hints of orange blossoms, caramel, vanilla and white pepper it is an incredible tea to brew in any time of year. Well balance, light and sweet with a refreshing aftertaste. Multiple brews making this tea superb for longer activity such as painting or reading .... you can really go nuts... over 8 brews easily from one serving :) JUICY!
Let's make this year the best, right?
Could we especially bring the attention to our lovely planet Earth? Nurturing, loving and caring is the way to go! And we are not talking about buying stuff which claim to be the best for earth, we are talking about planting the trees instead of cutting them and do the extra mile with our recycling bin :) Let's also focus on our personal health as if we don't care about our mind and body, how can we care about anyone or anything else? Let's judge less, avoid idiotic influence of social media and live more every minute. Bring your awareness to the self, to the moment and to healing.
Hold the cup of tea in your hand and breath... How does it feel?
So Happy New Year from night run to our beloved mountain Ben Vrackie.
31/12/2021 - 01/01/2022