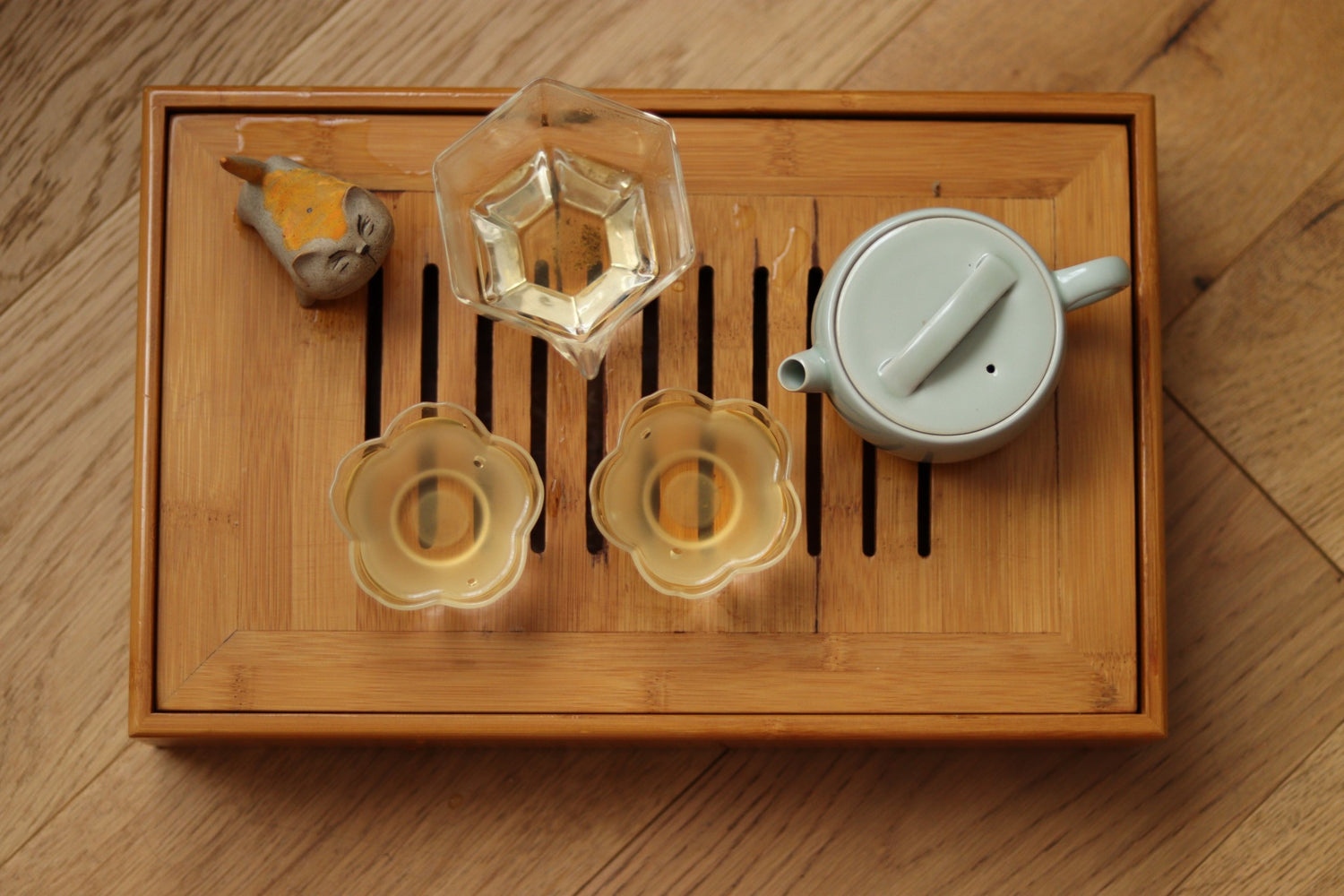 Jasmine Yin Hao N.706
Our New Jasmine Yin Hao is so floral, so sweet, so soft and mellow and so neat. It tastes like honeydew melon, freshly cut grass, sweet jasmine & warm hay.
Buy here...
"Kikori" TEA - Handmade by She Fang
The making Process

Here we go again. Another amazing treasure from our garden. We've gently plucked each gigantic & juicy summery bud with one leaf, withered them, hand rolled them for about an hour in the garden while drinking our fantastic Jeju Island korean black tea & chatting like monkeys. Then slight oxidation took place in the darkest place of our house and quick bake! You think perhaps it maybe a lot of work for 20g of tea, but it's EPIC!

The drinking process

With a joy, excitement and drumroll, we present you "Kikori" - our tasty summer adaptation of Golden Pine Needle tea. With fragrance of sweet soft honey, currant and baked biscuits it creates the ultimate sweet & sour combo. The mouthfeel is very soft & round and quite well balanced. Floral notes tingle the tongue and hints of currant, butter biscuits & medjool dates brings a pleasure to your senses. The aftertaste is as short and sweet as my younger twin sisters are! :) It's just a JOY!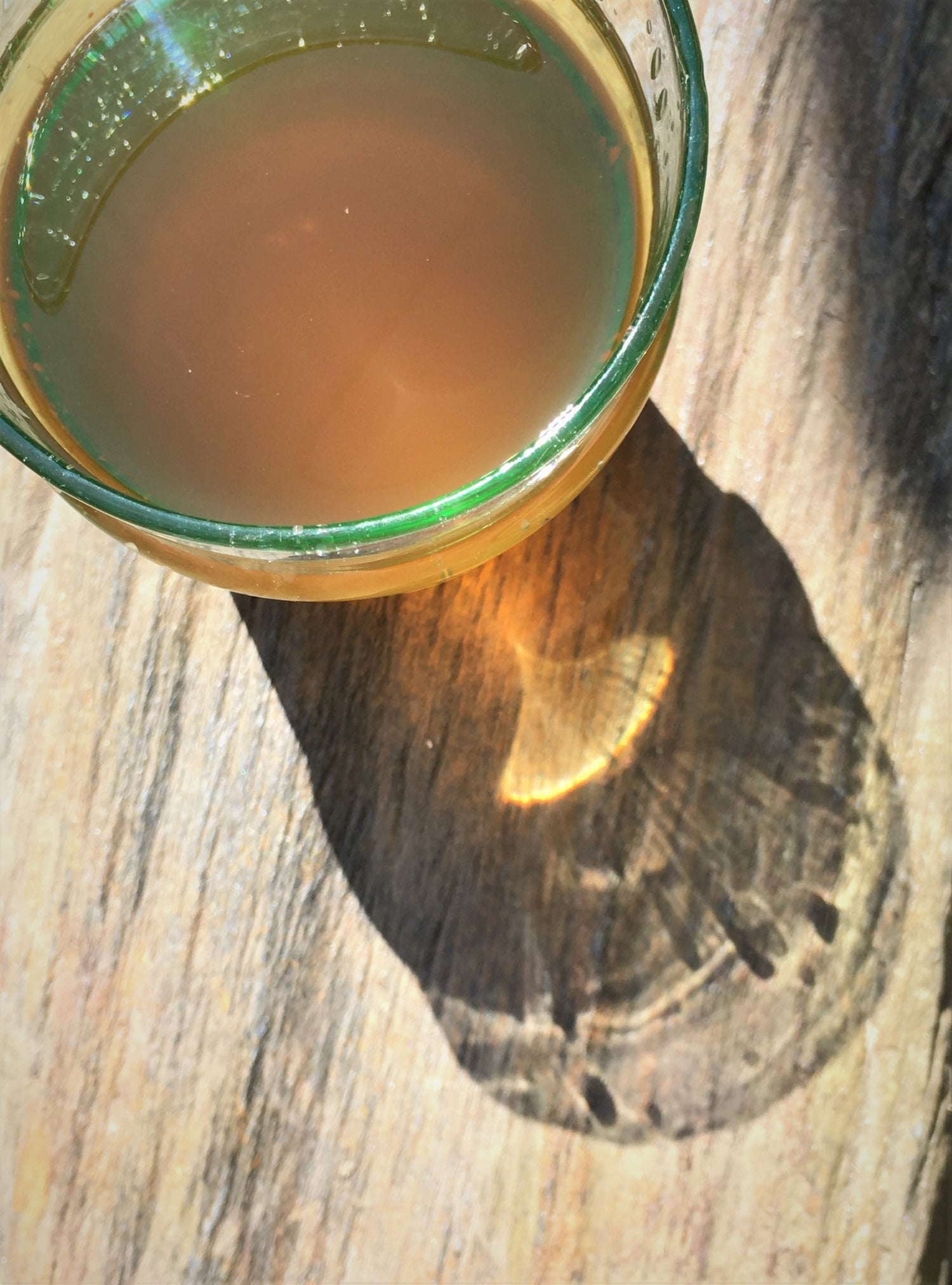 Cold Brew....
It's been hot, so hot one must hide in the shade from this scorching sun, dip in the lake or drink one of our absolutely gorgeous and refreshing "SALIDE DEL SOL" N.807. Salida is made up of Yerba Mate and Lemongrass. We added around 4 tbsp to 1L glass teapot and brew on 95 C, let it dance in the teapot for around 5 min and strain to a glass jug. Let it cool and refrigerate overnight. Voila... next day you have superb cold, boosting and refreshing drink:)
Drink Tea... Be Free...
Buy here...
Pu Er Mania in the garden
Ripe Pu Er small leaf 2015

"Leather, cocoa, musty, cherry, chewy"

Cup has a brilliant burgundy colour. Mouthfeel is full bodied & velvety with intense notes of cherry wood, mushroom ground & 100% cocoa mass. Taste is persistent, sweet and well balanced. Aftertaste has burnt sugar, figs & cherries finish.

Bu Lang King of Pu Er 2020

"Leather, liquorice, vanilla, dark chocolate, cherry"

Cup has a brilliant burgundy colour. Aroma is sweet, cherry wood like with a hint of floral notes. The mouthfeel is full-bodied, almost buttery with leather, dried fruit and decaying wood notes and hints of bitter chocolate. Aftertaste is velvety with sweet persistence of burnt sugar & vanilla.

Simao King of Pu ER 2020

"Dry wood bark, leather, cocoa & pepper"

Cup has a brilliant burgundy colour. Aroma is sweet, cherry wood like with a hint of floral notes. The mouthfeel is full-bodied with notes of dried wood bark, dark cocoa and prunes. Aftertaste is velvety, thick, sweet and peppery.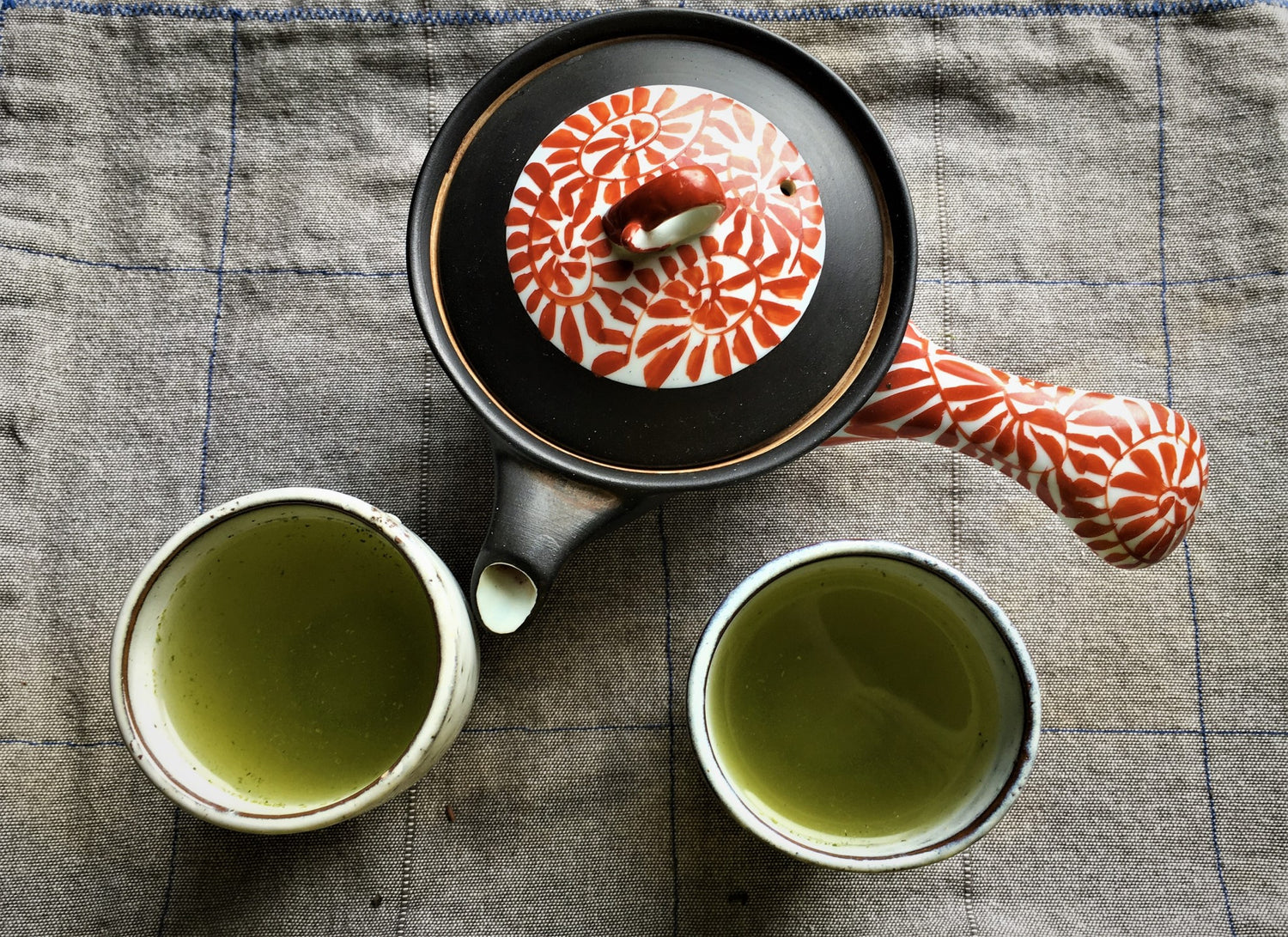 Gyokuro N.209
Gyokuro, which translates as "Jade Dew" is the most precious tea of Japan. It is produce entirely by hand. It taste of steamed fresh greens, walnuts & herbs.
Buy here...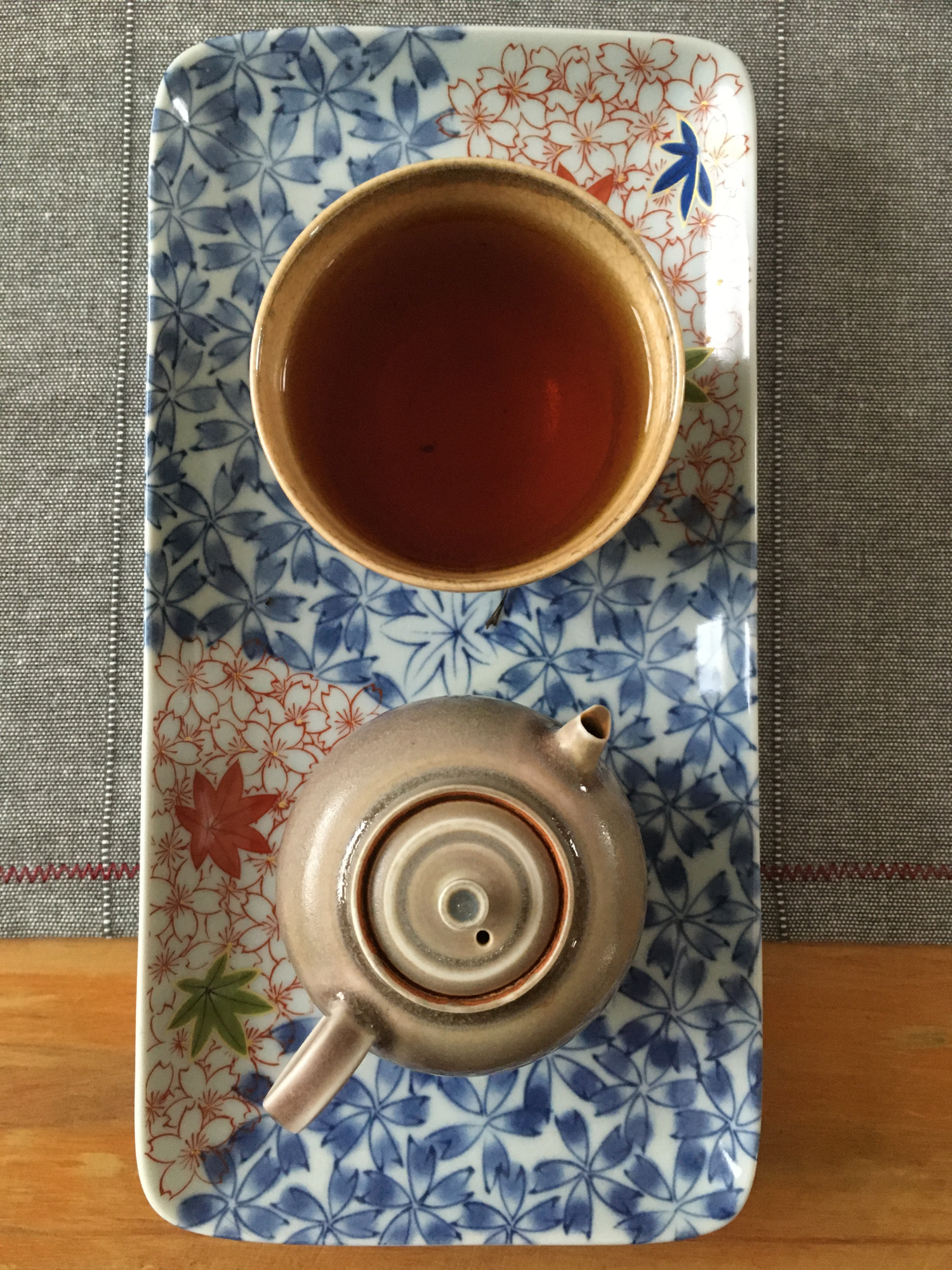 Keemun Hao Ya Palace gr.
Qimen or Keemun black tea is produced in Anhui province in China. It has been considered the best "red tea" (as Chinese often refer to black tea) for many years as it has rich aromatic cup with a delicate scent of roses and the sweetness of chocolate.
The magic happened when a retired high functionary introduced the red tea processing technique he had learned while working in Fujian in 1876. The sources say that this tea is a favourite at Buckingham Palace, but in all honestly, who knows what's true :P
You can buy & try in here....
Buy Me... here
Spring

Spring is on its way... first crocus flowers & Jasmine Dragon Pearl Tea.

Sunrise

Our Bulang King of Pu Er tea looks utterly SUPERIOR in these morning rays.

Slow

Gongfu tea ceremony - Slow, Powerful and Wise. Tea is full of energy, awareness & wisdom & how else to better absorb it then go Gongfu!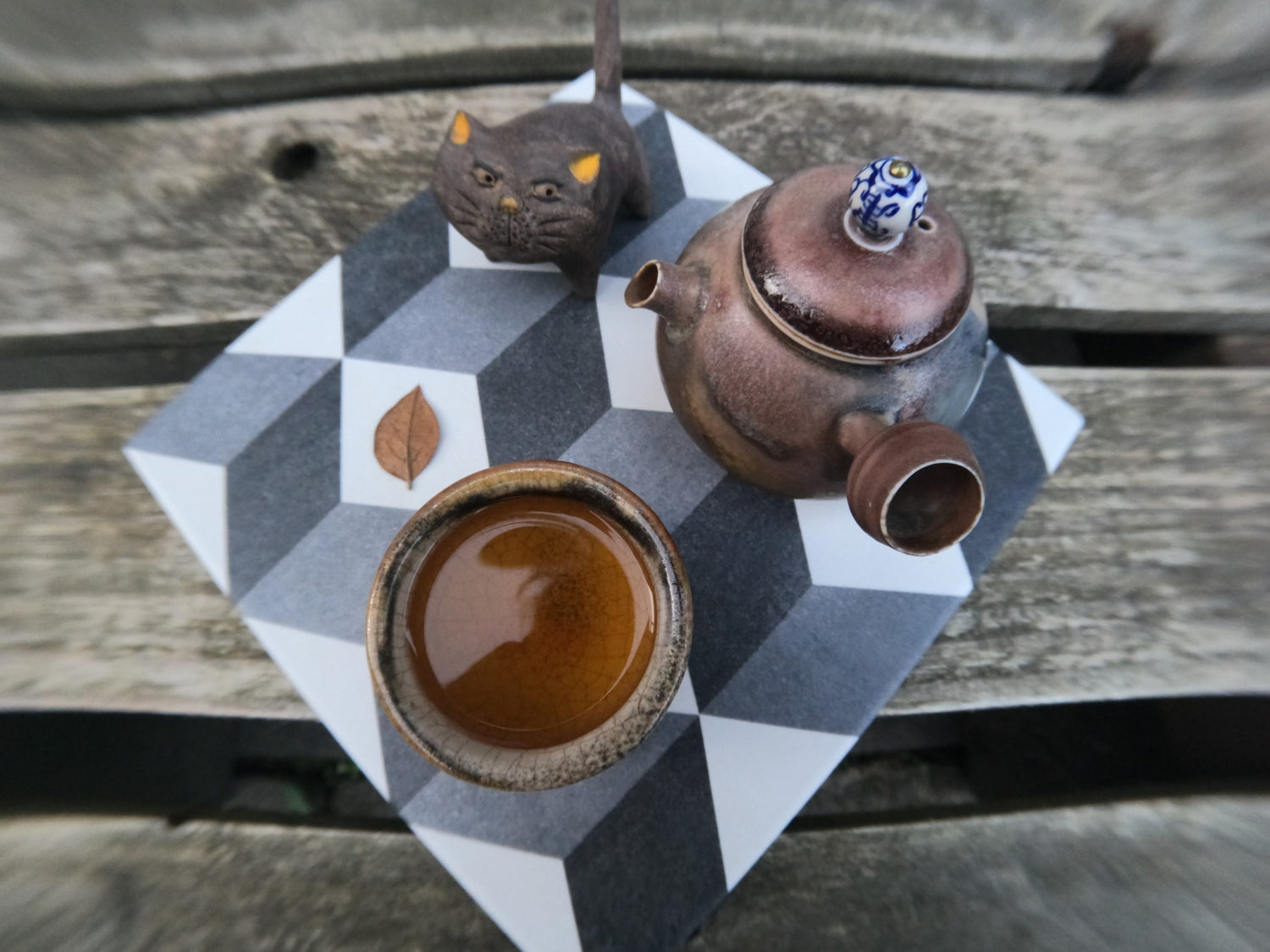 Flower Aroma Big Red Robe
Have you ever tried our Big Red Robe rock wulong tea? .. It tastes like: "Lilies, cedar, apricot & tobacco" and yes the taste is as fascinating as the description :P
Click here to purchase...
Genmaicha & The Legend
It is said that on a fateful morning in 15th century Japan a group of samurai was meeting to discuss a war campaign. While a clumsy servant, called Genmai, was pouring the tea, some grains of rice accidentally slipped from his sleeve into his master's cup. Angry at the servant for ruining his tea, the samurai beheaded poor Genmai on the spot, only to sit back down, drink his tea and realise the roasted rice kernels actually added a nice flavour to his cup. Feeling remorseful and to commemorate his late servant, he named the tea "Genmaicha" and a legend was born.
Drink Tea... Be Free
Our Genmaicha taste like courgettes, toasted rice, bread and almonds :)

Frozen Cup of Excellence!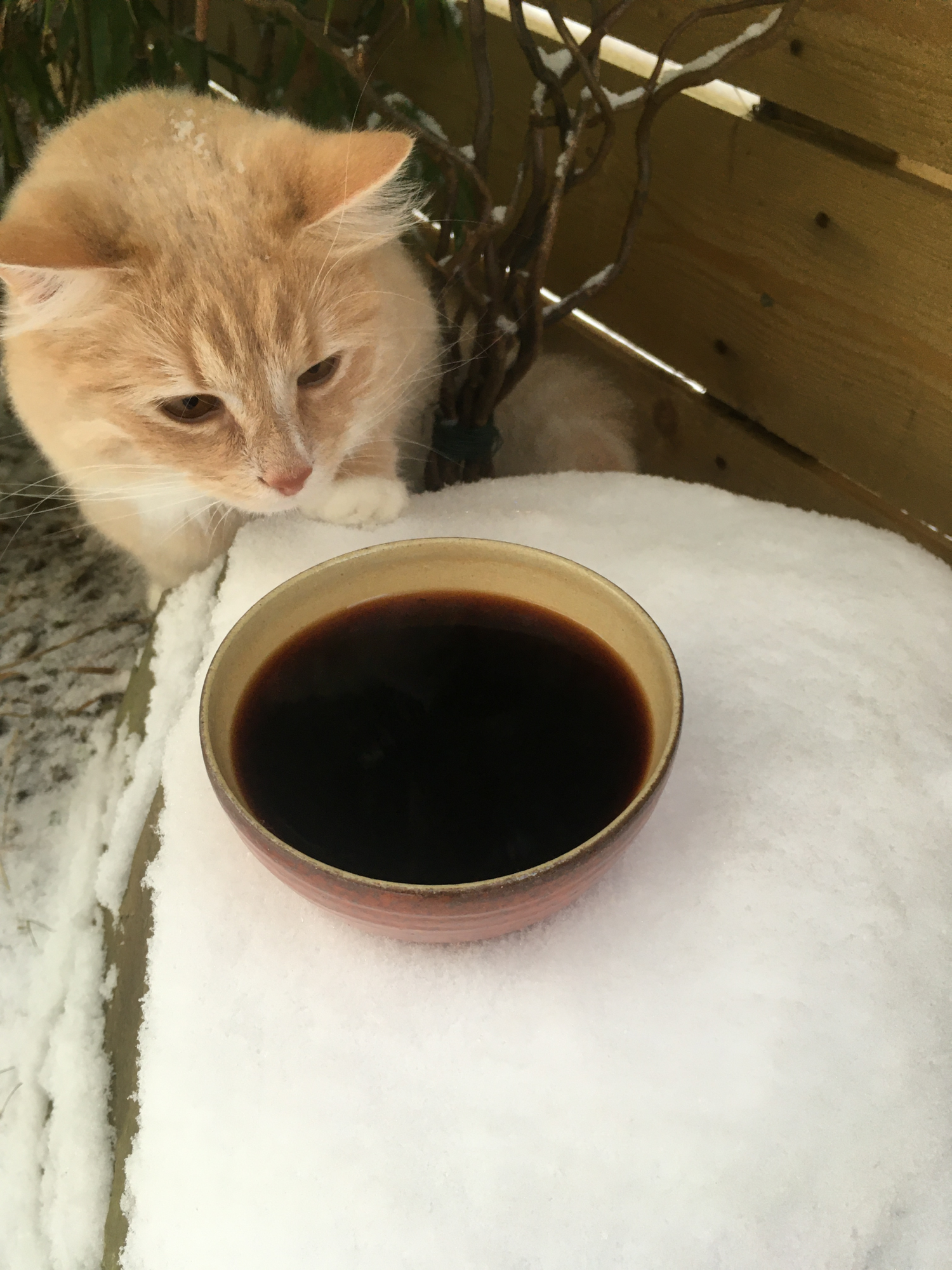 Our new Organic Pu Er Tea N.612
Snow is here.... & it is as white as ever!
Running in this we LOVE the most.
For us it is a sensation of frosted eyebrows and beard, stiff hips and frozen toes and heavy breaths in which we realease most of our body heat just like a steaming kettle ready for our new ORGANIC Pu Er tea.
N.612 The King of Pu Er is a must after such a silly runs. This tea is so soft and smooth, yet full bodied and dense as an oak. The taste of cherry bark, leather and cocoa is enticing and the thick buttery mouth-feel is rewarding and makes you feel full & satisfied. The aftertaste is vibrant mix of caramel and peppercorns.
Indulge with US and warm your body with our limited edition ripe Pu Er King... and if you want to you can also stick your toes under the snow for a wee while! :P